WonderWorks Orlando in Summer
Why it's the best indoor attraction on I-Drive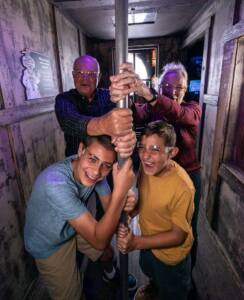 Indoor attractions are the perfect place to escape the heat or rain in the summertime. They are especially necessary for places like Orlando, where the summer days are either sweltering or stormy. International-Drive has no shortage of family-fun indoor attractions, but WonderWorks is the place to be this summer. Here are some reasons why it's the best indoor attraction on I-Drive!
Fun for the Whole Family
With over 100 activities spread across three floors, there's something for everyone to enjoy at WonderWorks! Younger kids can enjoy exhibits right at their height, such as Gear Works, while older thrill-seekers can take on the Astronaut Training Challenge Human Gyroscope. Adrenaline junkies can brave the three-story Ropes Course, while those who'd rather stay on the ground can create scene-changing mountains and valleys in the interactive sandbox. Then, the whole family can come together for a dance party in the Recollections room, make some music on the Giant Piano, and experience hurricane-force winds in the Hurricane Shack!
Keep the Learning Going into the Summer
WonderWorks is an amusement park for the mind—it combines entertainment and education, so kids can continue to learn even while having fun on summer vacation! Guests can learn facts about earthquakes and hurricanes in the Extreme Weather Zone, get up close and personal with a replica of an astronaut's EVA suit in the Space Zone, test light absorption to create a shadow in the Light & Sound Zone, and so much more.
With over 28,000 square feet of STEM "edu-tainment," families will leave WonderWorks with some new knowledge, whether they know it or not.
Grab a Bite or a Beverage in The Works Eatery
Guests can truly spend all day in the upside-down house because there's a café for lunch, snacks, and/or dinner! The menu is filled with classic summertime foods like pizza, soft pretzels, hot dogs, wings, sliders, and more. It also consists of an extensive list of refreshing drinks such as soda, lemonade, iced coffee, and slushies. Adults can even enjoy frozen alcoholic beverages, canned cocktails, and bottled beer!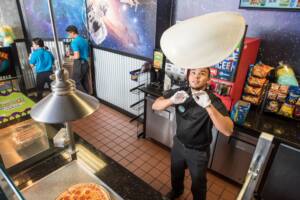 Pick up a Souvenir in the Gift Shop
One of the best parts of any vacation is getting to pick out a souvenir. The Wonder Shop has tons of merchandise to browse that is sure to remind you of your time on I-Drive. Choose from numerous t-shirts, magnets, plushies, keychains, and much more. You can even purchase gift cards to share the wonder with the adventure seekers in your life.
The Outta Control Magic Comedy Dinner Show
WonderWorks is home to the longest-running dinner show in Orlando, The Outta Control Magic Comedy Dinner Show! This one-of-a-kind entertainment experience is filled with non-stop laughter, mystifying magic tricks and engaging audience participation. Don't just watch the show – be a part of it! The dinner includes unlimited fresh, hand-tossed cheese and pepperoni pizza, salad, beer, wine, soda and dessert.
Summer shows are happening daily at 4pm, 6pm and 8pm. Performing 5 nights a week is magician Tony Brent, the one-man cast of dozens, and audiences can enjoy a special guest entertainer during the rest of the week.