WonderWorks Welcomes Homeschoolers!
WonderWorks offers homeschoolers discounted rates during our annual Homeschool Days
September 2017 & October 2017: Only $15 per person or $12 per person if you have a group of 10 or more!
· Students will explore over 100 interactive educational exhibits and build confidence on our indoor ropes course challenge!
· Classroom activities, lesson plans and scavenger hunts are available upon request.
· Advance registration is required and the $12 ticket only applies to groups of 10 or more.
· The rate is available only on weekdays.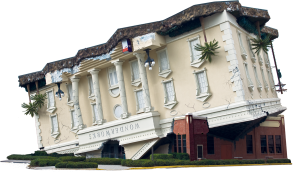 Please email schools@wonderworksonline.com to make a new reservation or call group sales at 407-351-8800.
For updates on homeschool promotions or other educational promotions or programs that may be of interest to you please sign up for our homeschool newsletter.