WonderWorks – Fun for All Ages!
The upside-down house on I-Drive isn't just fun on the outside—this science focused indoor amusement park is filled with fun activities to fill your day. With over 28,000 square feet of 100+ interactive exhibits and attractions, there's something for everyone to enjoy in WonderWorks!
Younger Kids Will Love:
Alien Invasion – Stomp on the cartoon aliens as fast as you can to save the galaxy!
Gear Works – Arrange the gears, big and small, so their teeth are interlocking, then slowly spin one of the gear wheels to see what happens.
STEM Room – Watch your drawings come to life and leap off the page in this new, immersive exhibit!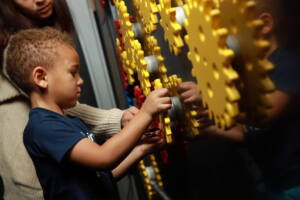 The Whole Family Can Enjoy:
Bubble Lab – If you are anywhere between the ages of 1 and 101, you will love this exhibit! Create bubbles the size of basketballs, blow bubbles through a bubble sheet, or even make a bubble big enough to fit inside!
Recollections – Who doesn't love a good dance party? As you walk in front of a screen, watch as your shadow quickly multiplies into different colors and patterns. Dance like nobody's watching!
Giant Piano – Jump from key to key on the giant piano and play music with your feet! Play a tune together, or solo.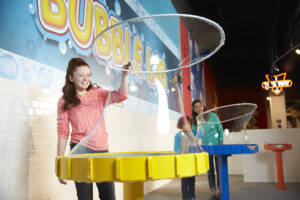 For the Thrill Seekers:
Wonder Coasters – Feel the adrenaline of a roller coaster on this 360˚ pitch and roll motion virtual ride!
Astronaut Training Gyroscope – Experience the feeling of weightlessness and the rolls and tumbles that astronauts feel when they are conquering missions in space on this exciting ride as it spins and rotates in multiple, random directions.
Ropes Course – Climb to new heights on the 3 story, glow-in-the-dark ropes course challenge. Conquer over 20 different obstacles all while 36 feet off the ground!