Hurricane Day Special at

WonderWorks Orlando
$20 Tickets for ALL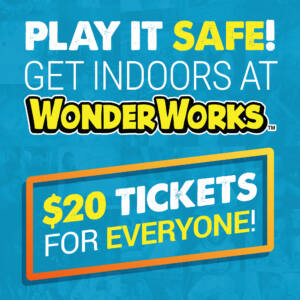 Has the storm passed, but school's still closed? Don't fret! WonderWorks is open and ready for some fun! Enjoy $20 tickets on Hurricane Days when local schools are closed and the kids are stuck at home. Let their imaginations run wild!
Hurricane Fun Facts
Most hurricanes will grow and live out in the ocean, but when they come toward land they can become dangerous and cause major damage.
Hurricanes rotate clockwise in the southern hemisphere and counter-clockwise in the northern hemisphere.
Hurricanes get their name from the World Meteorologist Organization and go in alphabetical order. Names can only be repeated after six years.