SPACE DISCOVERY
Explore the planets, train like the astronauts and land a shuttle on Mars. In our space discovery zone, the galaxy is your playground.
ASTRONAUT TRAINING GYRO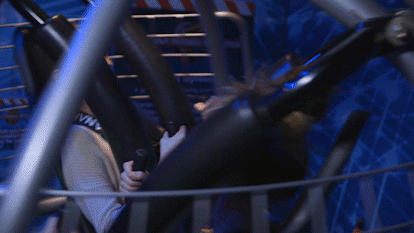 This 4-person gyroscope will spin and rotate in multiple, random directions as it simulates the effects that outer space has on humans. Experience the feeling of weightlessness and the rolls and tumbles that astronauts feel when they are conquering missions in space.
For Your Safety:
Must be at least 54" tall (4'6″) and weigh less than 225 lbs. We advise not to ride the gyro if anyone has any pre-existing medical conditions.
ASTRONAUT SPACE SUIT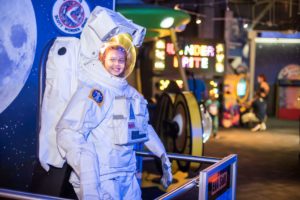 Explore a life-size replica of an EVA suit that astronauts wear when they need to do work outside their spacecraft. Space suits must be worn to keep astronauts alive in the extreme environment of outer space.
Space Suits Provide:
Stable internal pressure
Mobility
Supply of breathable oxygen and elimination of carbon dioxide
MERCURY CAPSULE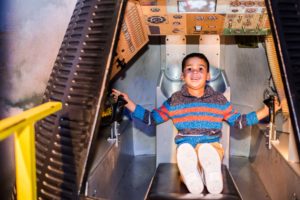 Climb into a replica of one of the launched capsules and experience what it's like to lay inside this one-man vehicle. Project Mercury was the first human spaceflight program of the United States of America led by NASA. The goal was to put a human in orbit around the Earth. The spacecraft was just big enough for a single crew member.
There were: