WonderWorks Myrtle Beach Job Openings


What Is WonderWorks?
WonderWorks, a science focused indoor amusement park, combines education and entertainment. With over 100 hands-on exhibits, there is something unique and challenging for all ages. Feel the power of 71mph hurricane–force winds in the Hurricane Shack. Make huge, life–sized bubbles in the Bubble Lab. Get the NASA treatment in our Astronaut Training Gyro and experience zero gravity. Nail it by lying on the death–defying Bed of Nails. Conquer your fear of heights on our indoor Glow-In-The-Dark Ropes Course. Guests can also visit the Soar+Explore Zipline and Ropes Course at Broadway at the Beach for an exhilarating and active quest 50ft above water.

Why Work For Us?
WonderWorks team culture can best be outlined in the word WONDER! We live with WONDER. We work by WONDER. We treat each other with WONDER. We are WONDER.

WonderWorks Myrtle Beach turns fun UPSIDE DOWN and creates lasting memories for guests of all ages! Whether living in the Myrtle Beach area or visiting for a once in a lifetime vacation, our guest's stories include YOU. We want our guests to have WONDERful stories. We want YOUR work experience at WonderWorks to be a positive chapter in your life's story.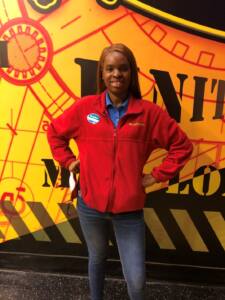 Meet Marquita!
Marquita works as an Exhibits Attendant. She has been with us a long time and she is filled with WONDERful knowledge! Her big smile and even bigger personality make her a fan favorite with guests and team members alike.
Why does she love working here? "I love meeting all the guests and experiencing their fun!"
To become a member of our team, like Marquita, please apply on the link below.

Your Benefits Would Include:
Medical insurance and dental & vision coverage options!
Paid holidays!
Paid time off!
401-K w/company match!
Weekly paychecks on Fridays!
Great discounts in our café!
Please click to see our current job openings and let us be part of your story!