WonderWorks Destiny takes pride in our support of nonprofit organizations and schools both locally and across the country!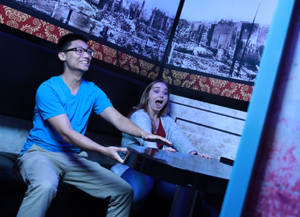 All donation requests will be reviewed within 2 – 3 weeks. The organization requesting the donation will be contacted by email, regardless of whether or not the request is approved.
The following policy has been developed as a way to create consistency and fairness to the organizations that ask for donations from WonderWorks Destiny. Please be aware that we attempt to fulfill as many requests as possible and due to the large number of inquiries we receive we cannot guarantee that every donation request will be met.
Details:
Requests must come from registered 501(c)(3) nonprofit organizations.
Requests must come directly from the registered 501(c)(3) organization, as such, third party requests or fundraisers will not be considered.
Requests must include a valid EIN Tax ID number.
Requests must be submitted at least six weeks in advance of the date of the event.
Requests are limited to one donation, per organization, every calendar year.
Incomplete or late requests will not be considered.
Submitting an online request does NOT guarantee your organization will receive a donation.

Please fill out the following form and our donation specialist will get back with you very soon!