Is it a CNY Snow Day?
Waiting for the school board to make a decision on whether or not to close school is one of the most exhilarating feelings a child can have! Top off the day with a WonderWorks adventure!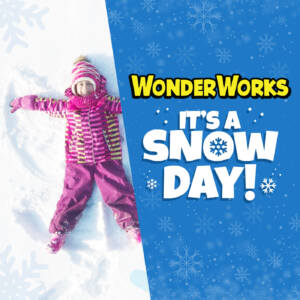 WonderWorks is $10 for every child (under the age of 18) and chaperoning adults are free!
In order to get this frost of a deal all you have to do is say the code word:
Supercalifragilisticexpiali SNOW DAY!
Professor Wonder predicts the CNY area will be getting quite a few snow days this year! He does have a masters degree in school closures due to snowfall predictions.
Snowiest days on record in Syracuse: