Let The Treasure-Hunt Begin!
WonderWorks has hidden rocks, can you find them?
WonderWorks invites you to a game of chance or is it just luck? Keep an eye out on our Hidden Rocks promotions as we will change them up often! Did you find a rock? Tag us on Facebook of you holding the rock and bring the rock into WonderWorks to get your 2 free tickets!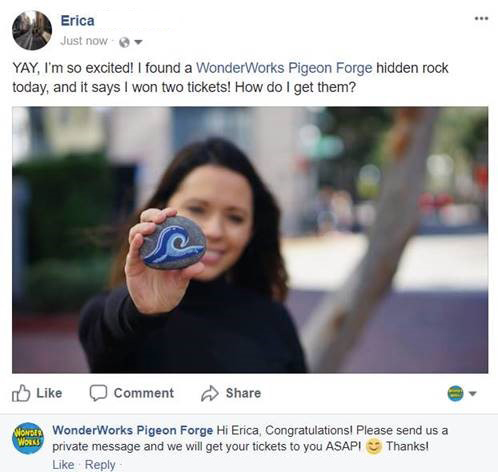 The TITANIC MOVIE 20th Anniversary:
Did you know WonderWorks has a TITANIC Exhibit? We have hidden TITANIC movie themed rocks all over Pigeon Forge and Gatlingburg. Are you the "King of the World?" Happy Hunting!
TITANIC Movie Facts:
TITANIC was release 20 years ago on December 19, 1997
TITANIC was nominated for 14 Academy Awards and won 11
Paramount Pictures had to send replacement reels to theaters because they had worn out their copies
TITANIC remained the highest-grossing film of all time until Cameron's Avatar surpassed it in 2010
James Cameron, who directed the film, went on a dive to see the real TITANIC himself and found it to be an overwhelming emotional experience