WonderKids 2020
What is a WonderKid? WonderWorks' WonderKids program highlights student achievement in various categories including Academic Excellence, Service to Community & Future Scientist. Part of WonderWorks' educational mission is to make science fun and entertaining. WonderKids is a way to recognize students in the community, not only the students who take an interest in science, but for the student who excels in community engagement or excellence in education. We invite you to nominate the student of your choice in any of the following three categories:
Academic Excellence – This award will go to a student who displays excellence in academia. They exceed the expectations of their teachers and peers and realize the importance of educational rigor in their future.
Service to Community – This award will go to a student who goes above and beyond when it comes to helping others. They demonstrate compassion, and a strong aptitude of self-awareness.
Future Scientist – This award will go to a student who exhibits passion when it comes to the sciences. They live each day as an innovator and discoverer, hoping to one day change the world through their love of science.
The 2020 WonderKids program is open to students from Tennessee. Nominations are due by Friday, April 17, 2020, however we are only accepting a limited number of nominations, so do not delay your entry. The program ceremony will be held on Saturday, May 16, 2020, at WonderWorks. Each nominee will be invited to WonderWorks for free along with 3 people of their choice.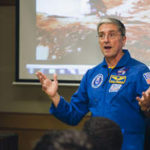 The ceremony's keynote speaker and awards presenter will be former NASA Astronaut, Dr. Don Thomas.
Additionally, by nominating your student to be a 2020 WonderKid, your school will be entered to win a visit from Dr. Thomas, where he will give an "out of this world" 30 minute presentation at your school and celebrate his journey through space with your students. Presentations will be on Thursday, May 14, 2020 and Friday, May 15, 2020.

Each nominee will also receive a certificate of nomination and gift bag. One winner will be selected in each category and be announced at the ceremony. Each winner will receive a certificate and prizes.
Prizes Include:
Lifetime Entry Into WonderWorks Pigeon Forge for the Winner and her/his family (up to 3 additional people)
Family 4 Pack to Wonders of Magic
This prize list is not final.
Nominations are closed for 2020!