Is School OUT for A Snow Day?
Waiting for the school board to make a decision on whether or not to close school is one of the most exhilarating feelings a child can have! Top off the day with a WonderWorks adventure – of course if WonderWorks is open!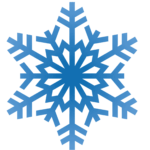 WonderWorks is $10 for everyone!
In order to get this frost of a deal all you have to do is say the code word:
Supercalifragilisticexpiali SNOW DAY!
***Please make sure we are open. We should have hours posted on our website in the event we have a late opening or early closure.
Professor Wonder predicts the Smokies will be getting quite a few snow days this year! He does have a masters degree in school closures due to snowfall predictions.
Did you know?
Newfound Gap in the Smoky Mountain National Park receives over 5 feet of snow annually. To contrast that, Gatlinburg receives less than a foot of snow in a year. Because Gatlinburg is at a lower elevation of 1,289FT, it receives less precipitation and warmer temperatures than the high mountain ridges in the Smokies
Routinely, Newfound Gap Road is closed during the winter because it is covered in snow and ice. But, luckily for visitors staying in cabin rentals in the Smokies, it is rare that the entire road will be closed, giving you the chance to drive up to the mountains covered in blanket of snow.